contact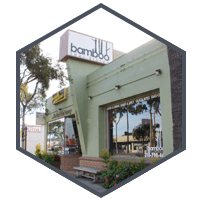 Hours
Every day: 12:00pm – 8:30pm
*closed for most major holidays


FAQ
Where is Bamboo Thai Bistro located?
2208 Artesia Blvd in Redondo Beach, CA. 90278. We are between Inglewood Ave and Rindge Lane.
Where can I park?
We have our own parking lot and there is ample street parking if needed.
When are you open?
Our hours are Monday thru Sunday, 12:00pm - 8:30pm.
Do you take reservations?
Yes. However, only for parties of 6 or more.
What is Bamboo Thai Bistro's delivery and take-out policy?
For delivery a purchase of a minimum of $25 and within a radius of 3 miles (Not 3.5 and above). Please understand that our small restaurant sometimes suspend delivery and takeout when we are at high volume.
Can I bring my pets?
No, we don't allow pets. Only service animals are allowed.
Is there a corkage fee?
Yes, $15 per 750ml bottle.
Are you kid-friendly?
We have high chairs. However, we do not have a kids' menu.
Can the restaurant accommodate different food allergies?
Please alert your server to any allergies prior to ordering. Some ingredients may be omitted; however, for dishes that are marinated and slow-cooked cannot be modified. Our kitchen does handle shellfish, peanuts, gluten, chile, and various herbs, and spices.
Are you hiring?
Thank you for your interest in wanting to join our team. Please send us an email at info@bamboothaibistro.com with your resume and a intro about yourself. Please use "Application: Bamboo Thai Bistro" as the subject line.